NEW PRODUCTS COMING SOON!
New Products Coming Soon!
On October 21st it will be Inception Of Beauty's one year anniversary! To celebrate we will be releasing a range new products! To find out what those products are before everyone else, subscribe to our mailing list otherwise keep checking our Instagram, Facebook and Twitter for news and updates!
Halloween is just around the corner and we couldn't be any more excited! If you are like us, and just love any excuse to dress up and put on over-exaggerated makeup, then keep reading and we will show you our top Halloween makeup looks for 2018!
Before we forget, just because it's Halloween doesn't mean you have to look terrifying, right? Who says you can't be glammed and damned? Our list features the finest in classy, Halloween glamour chic, with a few traditional and unconventional makeup looks thrown into the mix as well. Enjoy!
Also known as the Unicorn Lady or Glitter Girl – we simply adore this look for Halloween this year. Unleash your inner pixie, make a statement and sparkle your way around whatever Halloween party you attend this year.
To recreate this fabulously colorful look or a version of it, we recommend using a few of our products.
First of all, you want to apply a primer and base coverage. Next you will need our Glitter Eyeshadow Palette, which will allow you to imitate the bright bands of colour and glitter are the eyes and neck.
Finish with a pair of long and dramatic fake eyelashes, like our Glam Mink Eyelashes. The thick black lashes will perfectly accentuate the rest of the face allowing the colour to POP!
Purchase these makeup products by clicking here
Dead zombies and dead clowns – scary? You're 'dead' wrong. How about fabulous and sexy instead? Check out these 'other side of living' Halloween looks and tell us you are not in love, because we are!
On the left is a dead (but cute) zombie makeup look. This zombie is very on trend too, because freckles are in!
On the right – Queen of the damned clowns or Queen of the glammed clowns? How about both?
If you are thinking that one of these looks is the one for you this Halloween, then here's what you will need to recreate the look.
THE CUTE ZOMBIE: For the eyes, you will need our Bombshell Eyeshadow Palette and our Neutral Eyeshadow Palette (this can also be used for the burnt highlights on the tip of the nose and cheeks. For the freckles, we recommend our Eyebrow Pomade to create definition in the dots.
QUEEN OF THE GLAM: To recreate this look, you will also need our Bombshell, Neutral Eyeshadow Palettes and Eyebrow Pomade. To create the tear marks below the eyes, you will need a one of our smaller brushes, with a wet tip to ensure definition.
Purchase all these products and more by clicking here
THE 'WORTH A FORTUNE' TELLER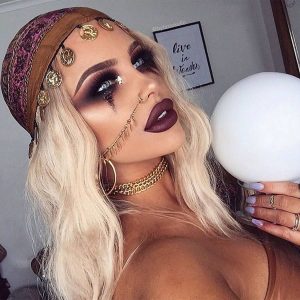 Think of dressing as a mystical fortune teller this Halloween? Don't go as withered old hag, how about this stunning, yet scary, fortune teller makeup look instead?
Are you thinking – 'Yaass! That is exactly how I need my makeup to look on October 31st'? No problem.
Here's what you will need from our online shop to make this dream and reality:
First of all, this look is all about highlights and contours. To get that definition in the cheek bones and to create a mystical glow, you will need our Creme Contour Palette and our Liquid Highlighters.
For the eyes, our Neutral Eyeshadow Palette for the dark base and for a touch of glitter on top, we definitely recommend our Glitter Eyeshadow Palette.
For the lips, we have a selection of highly pigmented, rich liquid matt lipsticks available. Check out our online shop for a variety of shades to choose from.
To purchase these makeup products and more just click here
SOME OTHER HALLOWEEN LOOKS WE LIKED…
Depending on your skill levels these two makeup looks will definitely wow the crowds. If you are interested in something a little more complex and trippy, check out the triple vision make up look on the left. Watch the full makeup tutorial video here.
If you are after something little more traditional, yet equally as difficult, take a look a the Sugar Skull makeup look on the right. Watch the full makeup tutorial here.