2019 MET GALA – CAMP: NOTES ON FASHION
OUR TOP 3 LOOKS FROM THE MET GALA 2019
First up in our top 3 looks from the Met Gala 2019 is the stunning Celine Dion. 
Dion showed up to the event in an Oscar de la Renta gold fringe dress and a feathery head piece that reportedly weighed 22 pounds. Her decade long Las Vegas residency is soon come to an end which is perhaps why her ensemble resembled that of a Vegas show girl. At 51 years old, this pop diva is still dropping jaws with her wonderful sense of fashion and fabulous flashes of leg!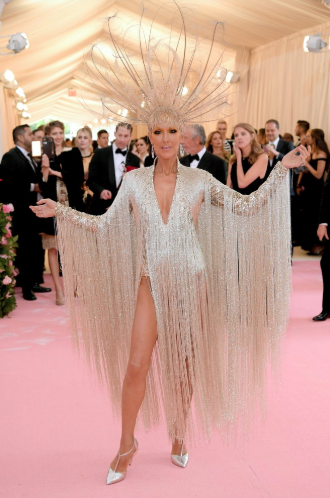 We are in love with her natural makeup look enhanced only by the dramatic eye makeup. Dark shades blended superbly – topped with thick and voluminous lashes for a smoky look. If you want to re-create this makeup look using our products, we recommend our Bombshell Eyeshadow Palette, our Vegas Lashes and our pale, nude shade Fantasy, from our liquid lipstick collection.
To browse our cosmetics collections click here.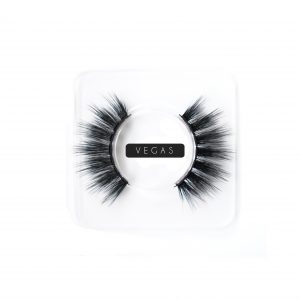 Next up in the our top looks from the 2019 Met Gala is Janelle Monáe wearing Christian Siriano.
Janelle Monáe is just rocking the outfit inspired by surrealist art allusions! We think this outfit is head turning and that hot pink is completely stunning!
We particularly love the eye and lip motifs (espcially the custom eye bag from Judith Leiber) which elevate the outfit into something a little more 'Met Gala appropriate'.
Janelle wore one hat that held three other hats on top. The accessories were built up into a tower, with one hat seemingly looking like it was about to fall to the ground. Of course, defying gravity was all in the name of 'Camp' style.
We really love how her makeup complimented her overall look. The angles of her surreal inspired outfit managed to be perfectly matched in her precisely contoured face. If you would like to re-create this makeup for yourself, make sure to check out our cream contour palette or our powder contour palette (for those of us with oily skin).
To shop our full collection of online cosmetics, click here.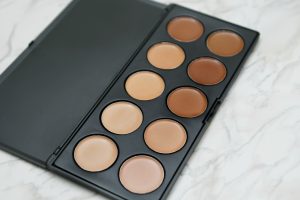 Finally, our last favourite look for the 2019 Met Gala was Taylor Hill in Ralph Lauren wearing a Butani necklace.
Taylor Hill wandered through 'The Library' at Ralph Lauren and searched through hundreds of vintage pieces to find the perfect dress. She found a shoulder-less pink satin dress that was re-made, just for her, for the 2019 Met Gala.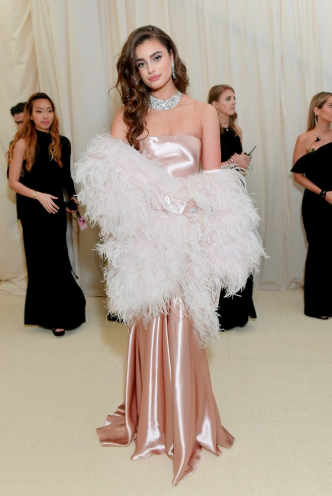 The dress and light pink feather boa is a reincarnation of the old Hollywood style and we think that it's simple, fashionable elegance is stunning. Not to mention the magnificent diamond encircling her neck!
We also love how her makeup is subtle and elegant, just like her outfit – minus the feather boa, of course. The light blush on her cheeks is both natural and high fashion. We also love the matte pink finish of her lips, for that slight pop of sophisticated colour.
If you want to re-create this makeup look for yourself, make sure to try our Blush Palette which has 10 unique shades to suit every complexion. If you want a touch of pink on your lips, get that matte finish using our Show Me Off liquid lipstick from our Black Edition.
To shop our full collection of online cosmetics, click here.